This is more of a rant than my normal posts!  So I am currently job-hunting after nearly eight months off work. Seven months of those months were spent travelling and one month was spent having two holidays in Spain, one where I obtained my third Scuba Diving Qualification. I am now in the process of meeting recruiters who are questioning that eight month 'gap on my CV' (especially because I did the same thing back in 2017 for four months).
My answer: BECAUSE I WANTED TO SEE THE WORLD. I have no regrets, but I hate the stigma that is attached to taking that time out. It's not like I was sitting at home, watching daytime TV for eight months; I was solo navigating myself around Latin America. If anyone is in two minds about going travelling and this kind of attitude towards this 'CV gap' is something that scares them off doing it, then I think that is a real shame- they are missing out on life changing experiences. Honestly travelling is soo much more than a gap in your CV! Let me explain why.
In my eight months away, I learnt SO MUCH.  About history, politics, environments,  people, poverty, the world. About mountains, rainforests, animals, deserts, the stars, the solar system. About how I am as a person; how I deal with things, people, how I deal with stressful, scary or testing situations. Honestly, I probably learnt more in that period, than I have in any of my jobs. I know all jobs are different, but generally most days follow the same pattern and you get into a weekly, monthly, yearly routine. Whilst travelling, everyday is different and you're tested and you learn something EVERY SINGLE DAY.
Here are just some of many things I experienced or learnt over the last eight months:
South America's recent history. Honestly it shocked me- especially the history of the the 1970s and 80s. In this period, there were political dictatorships and unrest over South America. In Argentina, the dictatorship lasted for 7 years and over 30,000 people were killed or simply 'disappeared'.  In Chile, the dictatorship lasted 16 years and  over 40,000 people were killed, kidnapped or tortured. I visited an incredible museum there on 'Memories and Human Rights,' with real life stories so horrific I cried – along with everyone else in that museum.
2. I summitted an extinct volcano up to 6075m. This was the hardest thing I have EVER done, both physically and mentally. We camped at 5100m, where the altitude, and started the walk up the summit at 2am. We walked in pitch black and silence with temperatures dropping down to -10 degrees celsius for 5 hours. All of my water and snacks froze, and I honestly thought my fingers and toes would drop off. There was a dangerous section where we were tied together with rope. I cried when I reached the top, and then cried even more when I got back down again, after another 2 hours pretty much throwing ourselves down the steep hill. The biggest challenge.
3. Stargazing. The Atacama Desert in Chile is the driest desert in the world and one of the best places in the world to go stargazing. I learnt about the planets and the solar system, and then was pointed out the zodiac constellations, the Milky Way and saw a shooting star. I viewed the stars through enormous telescopes and saw amazing nebulus, binary stars and globular clusters. I saw the remnants of an exploded star- the oldest thing I have ever and will ever see in my lifetime.  A truly humbling experience.
4. I spent a night camping next to an active volcano in Guatemala, after climbing 3800m up the neighbouring volcano Acatenango. I spent the entire night watching lava explode and pour down the sides – a once in a lifetime experience. A few days later I drove past the devastation that same volcano had caused five months previous, where a huge eruption had caused devastation- over 400 people were confirmed dead or missing. Even months on, the place was deserted-  it looked like a war zone. The buildings were still shells and the trees were destroyed. I have a new appreciation of the power of volcanoes!
5. I learnt some Spanish and I dabbled in salsa lessons. In Guatemala, I stayed with a local family for a week when I was studying at Spanish school. I felt SO out of my depth on my first night having dinner with them but throwing myself in the deep end definitely helped me learn quicker – and more about local people. In my second Spanish school in Bolivia, I became friends with my Spanish teacher who taught me lots about her country. I learnt about how the traditional cultures are sadly dying out with westernisation. In La Paz I saw a huge political march of poor Bolivian coca farmers, both women and men, protesting against their government.
6. I saw such an incredible variety of animals. I spent 3 days in the biggest wetland in the world, the Pantanal in Brazil and another 3 days in the biggest rainforest in the world, the Amazon from Ecuador. In the Pantanal, I saw tons of caimen (including one kill and eat a snake), capybaras, toucans, scarlet mackaws and the footprints of a jaguar among other things. In the Amazon, I saw loads of different monkeys, a sleeping anaconda, a tarantula and pink river dolphins. In Peru, I visited the Islas Ballestas, the 'poor mans Galapagos' and saw thousands of sea birds, penguins and sealions. On all of these trips, I learnt so much from guides about the animals and the environments they live in.
7. This was an important one for me – I experienced first hand the migration crisis of Venezuela. The country is in political and economic turmoil and according to the UN, now over four million Venezuelan people have left  the country. They are escaping the political chaos and corruption, shortages in food and medicines, extreme hyperinflation and the now widespread crime and violence. Throughout my trip I met plenty of Venezuelans, but I remember one in particular who said he had a degree in Computer technology but now he had left Venezuela, he spent his time collecting discarded aluminium cans to try and exchange for a small fee. The scale of the problem didn't hit home for me until I crossed the border from Ecuador to Colombia. There were queues of Venezuelans in their thousands at the border crossing, (they had a separate queue) carrying their life belongings, to try and make a new life in Peru and other South American countries. It was honestly shocking.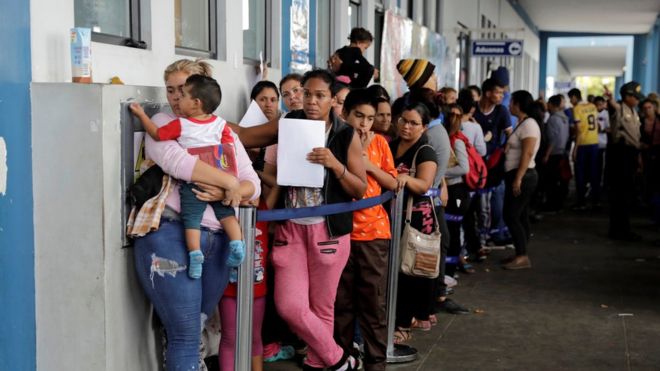 8. I learnt more about myself. I've realised I can judge pretty quickly if I like someone and want to spend time with them. I am more than happy to spend time alone, and would way rather do that than spend my precious time with people that (in my opinion) don't deserve it. Travelling gives me the biggest sense of achievement which is one reason I love it. I am super organised, obsessed with making the best of everywhere and plan a couple of days ahead so I don't miss out on anything. I struggle to relax when travelling because feel like I'm wasting my time there. When things go wrong (like my phone being stolen) I got through and coped by looking at positives- at least I hadn't been put in danger. Natural disasters are my biggest fear because they are uncontrollable. I felt unsafe taking night buses alone and crossing borders and definitely would have felt safer had I been able to speak fluent Spanish.
Conclusion
I think the point I am trying to make is that I have not stopped learning and developing this whole time. For me, all of my travels, and in particular this trip, have been the biggest achievement of my life so far. I felt really proud of myself during and after but it is very demoralising when it is not seen this way by employers, and you are made to feel like it was a mistake.
One of the things I love most when travelling is the huge sense of achievement I often feel; from navigating successfully a difficult public transport system in a foreign country; to ticking off a lifelong dream; to little things like starting conversation with strangers who then become friends. I love that I am learning all the time, about languages, about cultures, history, the land, trying local food, meeting local people; I find it so fascinating. I love the surreal feeling of researching a place and planning a trip, and then seeing my notes and dreams come to life.
I know everyone is different but I would have thought it impossible not to go travelling and not learn something, or have your outlook on life questioned at least once. But instead of listening to or understanding all this, employers just wonder why 'noone was employing' me! And so the job search continues… (rant over).